The Amateur Radio Software Award is an annual international award for the recognition of software projects that enhance amateur radio.
The award aims to promote amateur radio software development which adhere to the same spirit as amateur radio itself: innovative, free and open.
2021 Award Nominations
Nominations for the 2021 awards must be submitted by February 1st, 2021. Please use the awards nominations form to submit your nominations. The award rules and the faq are good resources to ensure your nominations are eligible and may answer any questions you have.
Announcing 2020 award recipient: Anthony Good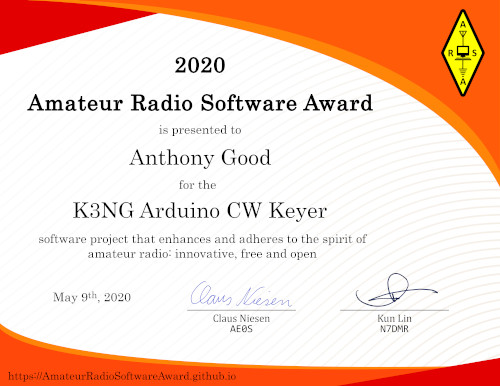 The Amateur Radio Software Award committee has announced Anthony Good as the winner of the 1st ever Amateur Radio Software Award for his project K3NG Arduino CW Keyer. This award is given annually to projects that enhance and adhere to the spirit of amateur radio by creating innovative, free and open software.
K3NG Arduino CW Keyer is awarded for its innovation to rekindle CW with connections to maker culture and ham radio operators alike. It generates enthusiasm for people to get into CW and amateur radio in general. Anthony's design allows the keyer to be run on readily available and low cost hardware. The extensive documentation, the open source code, and active email community make the project ideal for learning and tinkering. Anthony encourages collaborative work by engaging the community and welcoming contributions. The project has been active since 2013 and has enjoyed continued contributions from its code committers.
The award committee has deliberated many factors when choosing the recipient, including its impact on furthering the interests of amateur radio, innovation, and community involvement.
The award committee is presenting the award certificate and award grant of $200 to Anthony Good, the project owner and core contributor of the K3NG Arduino CW Keyer.
We are looking forward to next year's Amateur Radio Software Award. Input and nominations for future awards are welcome. Anthony's K3NG Arduino CW Keyer software is located at https://github.com/k3ng/k3ng_cw_keyer.