The Amateur Radio Software Award is an annual international award for the recognition of software projects that enhance amateur radio.
The award aims to promote amateur radio software development which adhere to the same spirit as amateur radio itself: innovative, free and open.
Special Event Stations
The special event stations K3A, K3R, and K3S will operate again this year from Aug. 26 through Sept. 4th, 2022. Details of the special event page.
Announcing 2022 award recipient: David Rowe (VK5DGR)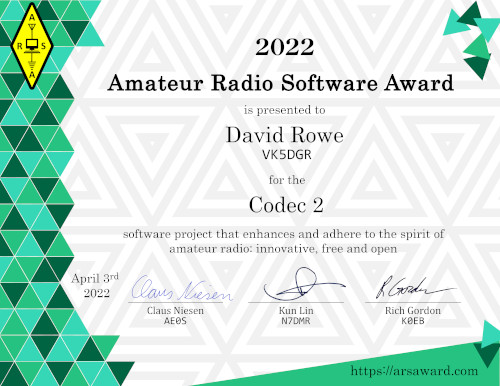 The Amateur Radio Software Award (ARSA) committee is pleased to announce the recipient of the 3rd annual Amateur Radio Software Award to David Rowe, VK5DGR, and his project, Codec 2.
The award committee went through extensive consideration of all nominations received. We had a very competitive pool of nominated projects to choose from. Factors considered include innovation, impacts on amateur radio and community involvement.
Codec 2 is a foundational project for digital voice communication on HF and VHF. It provides a royalty-free and open source codec suitable for digital voice application in amateur radio. Codec 2 enables other software and hardware projects to utilize digital voice communication without the barriers of licensing, usage fees and vendor lockdown.
"As well as speech compression software, the Codec 2 library also includes a variety of modems integrated into the FreeDV protocol to support robust open source digital voice over HF radio," explains David. "We are working on improving the quality, and lowering the SNR required for HF digital voice."
With Codec 2, David has made significant contributions to amateur radio by helping to move the community beyond the vendor controlled digital voice ecosystem and enabling other innovation previously prevented by patents. David Rowe and key contributor Mooneer Salem, K6AQ, created FreeDV, a program for digital voice communication over HF, as a reference implementation. Codec 2 is also used by the M17 team for digital voice in their VHF/UHF/GigaHertz communication protocol and applications.
Visit https://www.rowetel.com/codec2.html to learn more about Codec 2.
The ARSA committee is proud to present the 2022 Amateur Radio Software Award Certificate and an award grant of $300 to David Rowe, the project owner and core contributor of the Codec 2.
We are looking forward to next year's Amateur Radio Software Award. Input and nominations for future awards are welcome.