Special Event Station - K1A
We are operating the special event station K1A from Friday, September 25th through Sunday, October 4th, 2020 to promote innovative, free and open amateur radio software.
During the event we honor the 2020 award recipient Anthony Good and his K3NG Arduino CW Keyer software project.
As part of the special event we encourage people to submit nominations for the 2021 Amateur Radio Software Award.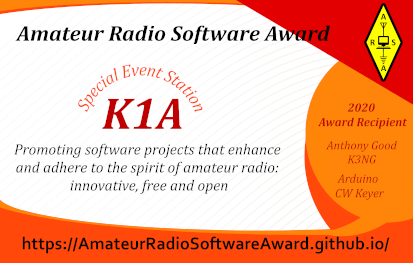 Schedule:
The operating schedule may be updated throughout the week.

Operators are the Amateur Radio Software Award committee members Claus (AE0S), Kun (N7DMR), Rich (K0EB) and special guest Anthony (K3NG).

For SSB we'll try to operate in the following frequency ranges:
20m: 14.240 - 14.260 MHz
40m: 7,160 - 7,190 MHz
QSL
To receive the special event QSL card for your contact(s) please send SASE to the address below.
Amateur Radio Software Award
Special Event Station
P.O. Box 126
Ames, IA 50010
USA